Introduction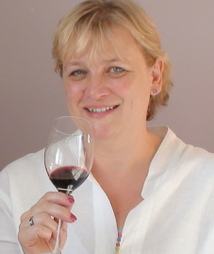 Mel Jones MW 1962 - 2015
Mel suffered a stroke in June which severely limited her activity and she died on the morning of Friday 21 August after a sudden deterioration in her health.
Please continue to read and post about wine, life and everything - that is what QO is for.
If anyone has any ideas about how we can keep Quaffers' Offers going, please email mel@quaffersoffers.co.uk and Mel's husband, David, will pick those emails up.
We will post again when we have more news.
---
I have tried to make this site user-friendly and clear. I don't want to be some posh bird who expects everyone to be able to list the classified growths of 1855 alphabetically, because I certainly can't and that's nowhere near the point of wine.
It is a fascinating drink that changes from vintage to vintage, from month to month in bottle and each producer makes a wonderfully different wine from his neighbour. In addition, prices are constantly changing and I want my readers to be able to grab the great wines at the very best prices and be warned about the grim, the dull and the pointless. Life is too short to drink inadequate wine and there are good wines for every budget.
This site has evolved so much since it started as a simple wine special offer search. It has become more of a discussion centre – certainly for the offers, but for wine in general, with quite a leaning towards food matching, growing your own veg and a quest to find the perfect MSB (Marlborough Sauvignon Blanc).
There are now thousands of searchable tasting notes and also the facility to search on your phone, which is exactly what the modern, money-conscious, technically-aware wine lover needs. "Oh, I see Château de Quelques Choses is half price – I must rush home to see what Mel and her forum boys think of it. Oh, wait a minute, I can do it right here, in store", etc.

While I am proficient in tasting wine and became a Master of Wine in 2010 and so have some authority, I think it's also interesting to hear the opinions of serious wine lovers and also complete beginners who add a fresh and non-snobby slant on things. Although I think as wine lovers we sometimes lean towards snobbishness, we are also fiercely keen on a bargain.

I am very careful with the input of prices, etc, but cannot be held responsible for any errors nor for stock levels at your local shop. If you're basing a huge order around these prices, it is best to phone ahead first.

If you see any really obvious typos or mistakes I'd really appreciate a quick email.

Latest Forum Posts
---
M & S Brut Cava ...
With the regular 25% off it's £7.50 As good as any, quite ...
---
Union Des Viticulteu...
They got me...thought this was a super bargain at £8 but I'...
---
Herencia Codorniu Ca...
Yet another name from the famous Codorniu outfit. Was on of...
---
Sainsbury Gavi TtD
Rec'd by McQ in her annual best summer whites. Down from £...
---
M & S Craft 3 MS...
Advertised as '18 but I got '17 in the 25% offer. £10 - 2....
---
Hack ???
M & S and Tesco sites both down yesterday and today. Ca...
---
M & S
25% off 2 or more cases (6) until 24th. June
---